The findings of a study performed by Kaua'i Chapter Blue Water Task Force volunteers Carl Berg, John Elderete and Ethan Elderete were recently published in the scientific journal Environmental Monitoring and Assessment.
For over a decade, the Kaua'i Chapter's Blue Water Task Force has tested surf breaks and stream mouths to complement the beach water quality monitoring program conducted by the Hawai'i State Department of Health. Their program is meant to offer broader protection for all the coastal waters where people like to get into the water to surf, play or just cool off. Their data clearly demonstrates that while the surf breaks typically test clean, many of the streams they test are chronically polluted with extremely high levels of the fecal indicator bacteria enterococcus. One of their worst offenders, Nāwiliwili Stream at Kalapakī Bay, has failed every water test performed since 2016, landing this site on the Surfrider Foundation's national list of polluted priority beaches.
This is concerning because families with small children often seek out these calm, shallow waters where they flow across the beach. They are, however, unaware of the potential health threats. While the Kaua'i Chapter has successfully convinced health authorities to post signs at some streams where measured bacteria levels could be putting public health at risk, there is no visible sign to warn people at Nāwiliwili Stream and many others across the island.
In order to determine which streams on Kaua'i are polluted with human waste, and thus require further attention by authorities to protect the health of the bathing public, the Kaua'i BWTF tested 24 streams, four times each, for both enterococcus and sucralose. Sucralose is an artificial sweetener used in candy, beverages, baked goods and dairy products. Since it passes through the human digestive system unchanged, is resistant to wastewater treatment, and is relatively inexpensive to test for, sucralose has been successfully used to indicate the presence of human sewage in waterways.
All streams tested yielded bacteria counts that exceed the state health criteria for fecal indicator bacteria, while sucralose was detected in 19 of 24 streams tested. In fact, sucralose was detected in at least 50% of the samples collected in 14 streams, indicating that these streams are contaminated with human sewage. Read local media coverage and the study report here.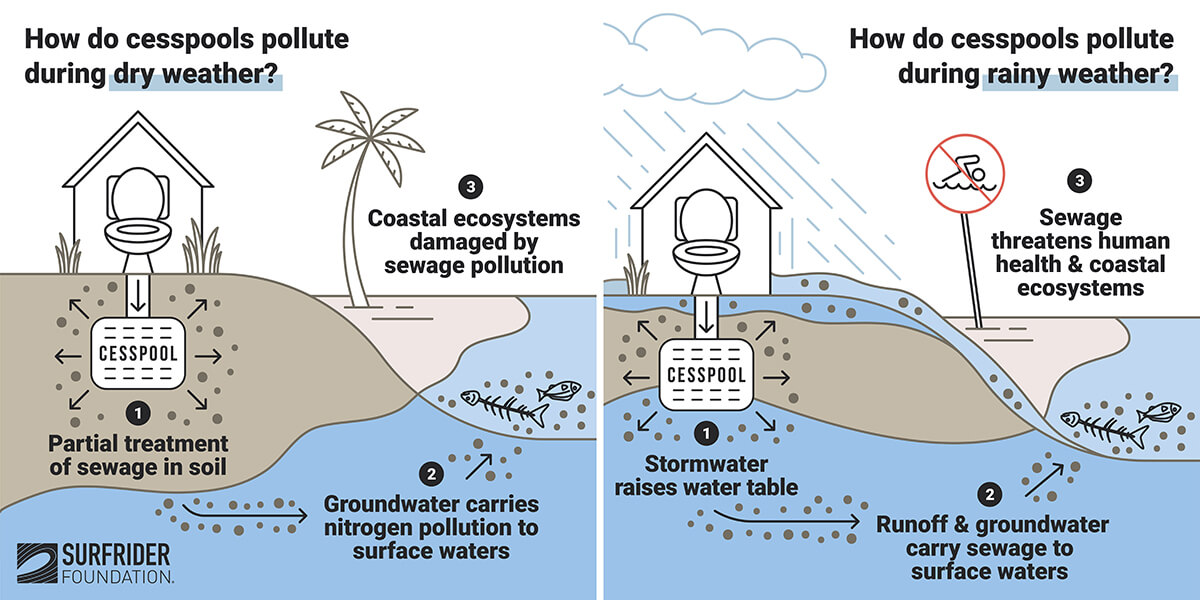 Where is this pollution coming from?
Kaua'i has approximately 14,000 cesspools that leach untreated sewage into the ground and directly into surface waterways during storm events. While state legislation has been passed to mandate and encourage the replacement of cesspools with more advanced systems, progress is slow and will not happen without significant financial investments. Watch this short film to learn more.
This study describes the successful use of sucralose as an indicator of human wastewater, and thus significant public health risk, in recreational waters on the island of Kaua'i. This method can be used to identify priority areas to target management actions like cesspool upgrades. Meanwhile, people who enjoy getting into the water have the right to know where it is safe to surf, swim and play. The Kaua'i Chapter will continue to advocate for signage to be posted at beaches where test results indicate probable health risks due to elevated bacteria levels at the beach and in coastal recreational waters.